What is PETSCII?
Details

Written by

shine

Category: FAQ
Hits: 364
PETSCII is the ASCII code of the C64. It is also called CBM-ASCII or PET-ASCII. It is a defined character set of 256 characters (i.e. 8 bits). Each displayable character is embedded internally in an 8x8 pixel matrix.

There are two modes that are used. One mode has uppercase letters as a subset, and the other mode has uppercase and lowercase letters as a subset, and there are other graphical special characters in both modes.

So you have one of the two modes including a defined character color per character, a global background color and the frame color. The respective color can be selected from a range of 16 colors.

The screen area contains 40x25 = 1000 characters without a frame.

The art of using these characters as graphics is called block graphics or character set graphics.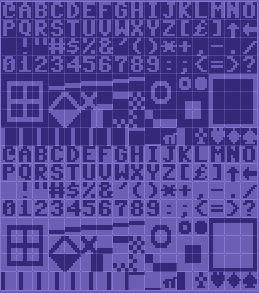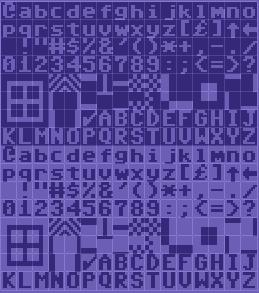 Was ist PETSCII?
Details

Written by

shine

Category: FAQ
Hits: 827
PETSCII ist der ASCII Code des C64. Es wird auch CBM-ASCII oder PET-ASCII genannt. Es ist ein definierter Zeichensatz von 256 Zeichen (also 8 Bit). Jedes anzeigbare Zeichen ist intern in einer 8x8 Pixel-Matrix eingebettet.
Es gibt zwei Modi, die zum Einsatz kommen. Ein Modus hat als Teilmenge Großbuchstaben und der andere Modus hat als Teilmenge Groß- und Kleinbuchstaben.In beiden Modi gibt es weitere grafische Sonderzeichen.
Man hat also einen der beiden Modi inklusiv einer definierten Zeichenfarbe pro Zeichen, eine globale Hintergrundfarbe und die Rahmenfarbe. Die jeweilige Farbe kann aus einer Palette von 16 Farben gewählt werden.
Die Bildschirmfläche beinhaltet ohne Rahmen 40x25=1000 Zeichen.
Die Kunst, diese Zeichen als Grafik zu verwenden, nennt sich Blockgrafik oder auch Zeichensatzgrafik.